Here are what people are saying about the new folding map:

"A great, imaginative representation of the thousands of trees, as well as the many paths, buildings, monuments, playgrounds and waterways that make up Central Park!"

— Adrian Benepe
Commissioner, NYC Dept. of Parks and Recreation




"Let this wonderful map be a guide to the masterpiece that is Central Park. Explore its many wonders through the winding paths and walkways as you uncover the glory of nature and delight in the splendor of its magnificent trees."

— Douglas Blonsky
President, Central Park Conservancy and Central Park Administrator




Media Coverage of the "Central Park Entire" Map:

Our story in the The New York Times.

National Public Radio Interview with Margot Adler.

Public Radio International's "Living On Earth" interview with Bruce Gellerman.

In "The Talk of the Town" section of the New Yorker magazine of January 31, 2011, Nick Paumgarten wrote about his experience exploring trees in the middle of a blizzard in Central Park with Ned Barnard and Ken Chaya. Of the map he says, "It is a beautiful and meticulous artifact, as full of captivating detail as the M.T.A.'s new subway map is devoid of it." To read the entire article, go to the New Yorker's website and check out their digital subscription.

CBS News Report with John Slattery

National Public Radio Interview With Margot Adler on the Damage Caused by Hurricane Sandy in Central Park

Please check back with us for upcoming map news and information on Central Park.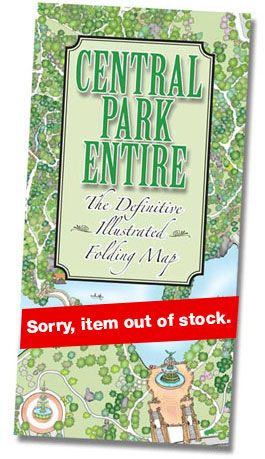 Folding Map
The folding map measures 36 x 26 inches unfolded. The southern half of the Park is printed on one side, and the northern half is printed on the other. A full-color Tree Legend appears on both sides. To order the folding version of CENTRAL PARK ENTIRE printed on durable, waterproof synthetic paper, simply click on the "Buy Map" button below.

Poster Map
The poster map measures 59 x 17 inches and comes with a separate full-color Tree Legend for identifying the more than 170 tree species shown on the map. The poster and the Tree Legend are shipped in a sturdy cardboard mailing tube. To order the poster version of CENTRAL PARK ENTIRE, simply click on the "Buy Map" button to the right.