Central Park Nature Videos
The six videos presented here document the two-year process of mapping Central Park. Each video focuses on specific aspects of the Park and the challenges in mapping them. The first video, "Two Years of Mapping Central Park" tells the background story of the Central Park map project.
Two Years of Mapping
Central Park A map project that became an obsession


Learning to Identify 172 Species of Trees in Central Park My goal was to create a map that helped to separate and identify all the tree species in the Park
Water, Water, Everywhere
in Central Park Showing all of Central Park's lakes, ponds, and streams
Sketching From Life in
Central Park Over 200 illustrations of all the Park's architectural features
Walking Every Paved Path and Wooded Trail in Central Park I trekked over 500 miles in order to document the Park's many species of trees and shrubs
The Ever-Changing Central Park Landscapes Recreating all of the Park's stunning landscapes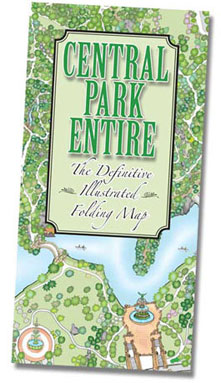 Folding Map
The folding map measures 36 x 26 inches unfolded. The southern half of the Park is printed on one side, and the northern half is printed on the other. A full-color Tree Legend appears on both sides. To order the folding version of CENTRAL PARK ENTIRE printed on durable, waterproof synthetic paper, simply click on the "Buy Map" button to the left.

Poster Map
The poster map measures 59 x 17 inches and comes with a separate full-color Tree Legend for identifying the more than 170 tree species shown on the map. The poster and the Tree Legend are shipped in a sturdy cardboard mailing tube. To order the poster version of CENTRAL PARK ENTIRE, simply click on the "Buy Map" button to the right.